Celebrating International Women's Day 2021
International Women's Day is one of my favorite days of the year! There's nothing that hits my soul deeper than championing and being surrounded by inspiring women. So much has changed over the last year, but one thing that hasn't is how genuinely incredible, strong, and courageous women are.
Today I can't help but be grateful for the positive women in my life, particularly those I've interacted with and have been motivated by over the last year. Times were tough, but we are tougher. I am more resilient, braver, and happier because of the women in my life. So today, rather than hoard all of their goodness, I'm sharing a list of 11 women I'm sending virtual hugs and a big "THANK YOU!" to this International Women's Day.
Many of the women who have served as inspiration for me are writers, creators, visionaries, small-business owners, mamas, feminists, and catalysts for change. Before I dive into the list of these women, here's a look at my inner circle: my family members, both blood-related and otherwise, and my best girlfriends. These women always have my back and cheer for me, no matter what. I am so fortunate to have a girl gang this powerful in my corner.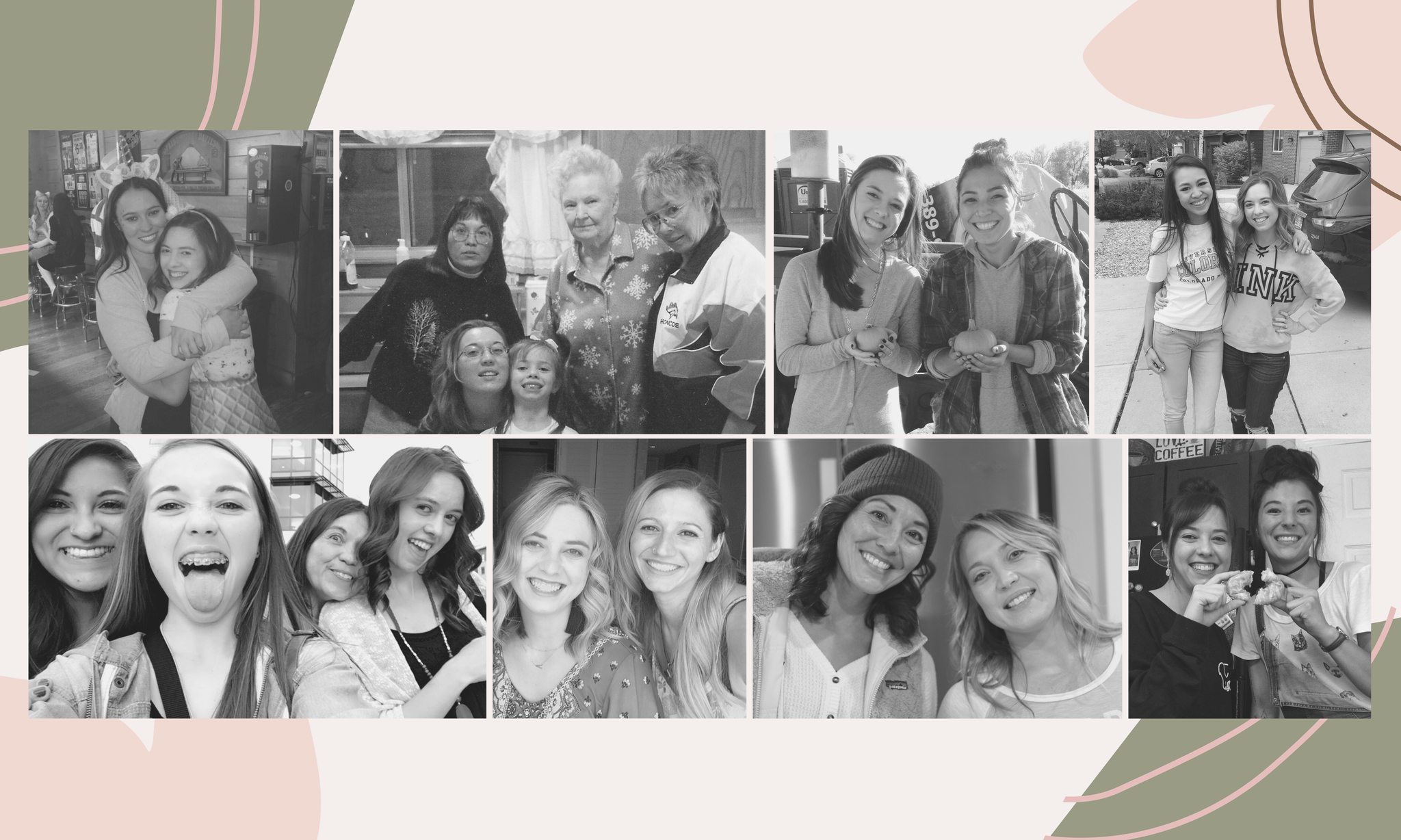 Here are the women who have sparked a light in my life, particularly since last International Women's Day (whether they know it or not). I'm sending big virtual hugs and a "THANK YOU!" to every one of you.
Stephanie Harrison
Stephanie Harrison is the founder of The New Happy, a compassionate and selfless individual in her relationships, and one of those people who makes the world a better place just by being in it. I somehow managed to cross paths with Stephanie through a LinkedIn post and have been lucky enough to get to know her over the last year. Stephanie's teachings in positive psychology couldn't have erupted into the world at a better time, and I am so thankful for her endless generosity and passion for true happiness.
Nicole Booz
Nicole Booz is the founder and Editor-in-Chief of GenTwenty, an author, co-founder of The Capsule Collab, and a mama to two (or almost two, coming very soon!) In 2020, Nicole offered me a contributor position for GenTwenty, and from the moment I met her, it was evident that she's headstrong, admirable, and understanding. I admire Nicole because she created the position she wanted rather than waiting for someone to give it to her and has since built a growing and incredible community for twenty-somethings.
Marina Crouse
Marina Crouse is the Managing Editor at GenTwenty, a writer, writing coach, editor, co-founder of The Capsule Collab, and a ray of sunshine. She recently completed her manuscript, a big dream of hers for some time now, and it was so exciting to watch her achieve this goal from afar. My favorite thing about Marina is that she's leaning into what she truly loves (writing) and using her gift and skill to help other writers. I'm grateful we had the opportunity to meet through GenTwenty!
Rashelle Whiteharris
Rashelle Whiteharris is the founder of Women's Collective, a women-owned small business launched during the pandemic, a mama to three littles, and a talented former photographer and creator. Launching a business in the middle of an unexpected season goes without saying that Rashelle is brave and believes not only in her dreams but in the dreams of other women she supports through her brand. Women's Collective has been a pick-me-up for me over the last year, and I love seeing women supporting other women.
Kat Boogaard
Kat Boogaard is a freelance writer, wife, mama, and dog mama. Ever since I started daydreaming about becoming a full-time freelance writer someday, I've admired Kat and her work in the productivity and careers space. Fast forward to early this year, and I now have the opportunity to work directly with Kat because she was willing to take a chance on me. Time and time again, I've heard how difficult freelance life is, and what I admire about Kat is not merely her success but the fact that she shares her struggles, encourages and helps others in their ventures, and quite honestly, how her humorous tone reads in her writing.
Michelle Poler
Michelle Poler is a fear facer, speaker, author, and most recently, mama to her firstborn, Noah. In May of 2020, Michelle launched her first book, Hello, Fears, and I had the fortunate privilege and pleasure to be on her launch team. My interactions with Michelle encouraged me to believe that I am a great writer and can do anything I want to do in this life so long as I'm willing to befriend the fear that tries to stop me along the way. Read more about how Michelle's attitude and life philosophies kept me optimistic during the pandemic here.
Annie Bradshaw
Annie Bradshaw is the founder of Pep & Party Co., a creative dreamer, and the friend you never knew you needed but can't live without once you have her. Annie posted that she was looking for a writer for seasonal help with Pep & Party Co. right before the holidays, and the rest is history. Whenever I talk to her, whether through texts, voice memos or on a call, I leave the conversation feeling lit up inside and ready to accomplish my wildest dreams. Her energy is so contagious, and I am thankful for her friendship and mentorship.
Kinnsey Tripode
Kinnsey Tripode is the other piece of the Pep & Party Co. triangle, a wife and a mama to (almost) two littles ones. When I think of Kinnsey, the words grounded and headstrong come to mind. I admire Kinnsey's organizational skills (girl, same), desire to serve and help others, and how much she loves her inner circle and would do anything for them. I'm fortunate to work with not one but two amazing women on the Pep & Party Co. dream.
Coley Lane
Coley Lane is the founder of Life Goals Mag and a Business & Pinterest Strategist. I found Coley through Pinterest last year coincidentally enough, and what I've enjoyed most is getting to see Coley transform and lean into her expertise. I love that she isn't afraid to try new things and has an undeniable passion for helping others succeed in their businesses. We share a similar passion for personal growth, and I love that about Coley.
Emma Barrera
Emma Barrera is the founder of Right Hand Glam, a social media agency that helps female small business owners and creatives build authentic connections and expand their reach. I found Emma through Instagram, and while we don't know each other all that well, I am continuously inspired by her level of confidence sprinkled with humor on top! Emma possesses a glow that I wish I would have had in my early twenties.
Hope Harris
Hope Harris is the founder of Positive Statement Co., wife to Will, and dog mama to sweet Sadie. You've likely seen me wearing a pair of Positive Statement Co. clay earrings on a Zoom call over the last year. What started as a clay earring side hustle has transpired into a community and digital space rooted in faith, and I know that Hope has a bright future ahead of her. Her dedication and desire to foster a community are unrivaled in every way, and every girl needs a friend as sweet as Hope.
Happy International Women's Day! Tell the special women in your life just how much they inspire and mean to you today.