← Back
100 Reasons to Read Hello, Fears by Michelle Poler
15 Reasons Why Purchasing Hello, Fears is Worth Your Time
1. We all have areas in our lives where we can step outside of our comfort zones and grow.
2. You might be stuck inside your comfort zone in an area of your life and not even realize it.
3. Life is too short to live without purpose.
4. You're ready to change your life, but don't know where to start.
5. This book is for everyone! The lessons shared in this book are applicable amongst all walks of life.
6. Michelle Poler knows a thing or two about how to face fears because she faced 100 of hers in 100 days.
7. Michelle is a phenomenal keynote speaker and has been invited to speak at Google, Netflix, and Facebook, to name a few.
8. Michelle earned a Master's Degree in Branding from the School of Visual Arts in New York City. Hello, Fears is a strong representation of her brand and showcases her knowledge.
9. Hello, Fears was published by Sourcebooks, the largest woman-owned trade book publisher in North America.
10. Michelle believes in the power of facing fears and becoming who we're meant to be so much that she filled 316 pages of a book on the subject.
11. Michelle worked with an amazing design team to bring the visual elements of her book to life, and they nailed it.
12. Hello, Fears includes testimonials from celebrities as well as real people from the community.
13. There's a special dedication included at the beginning of the book.
14. The Table of Contents is visual, original, and unique.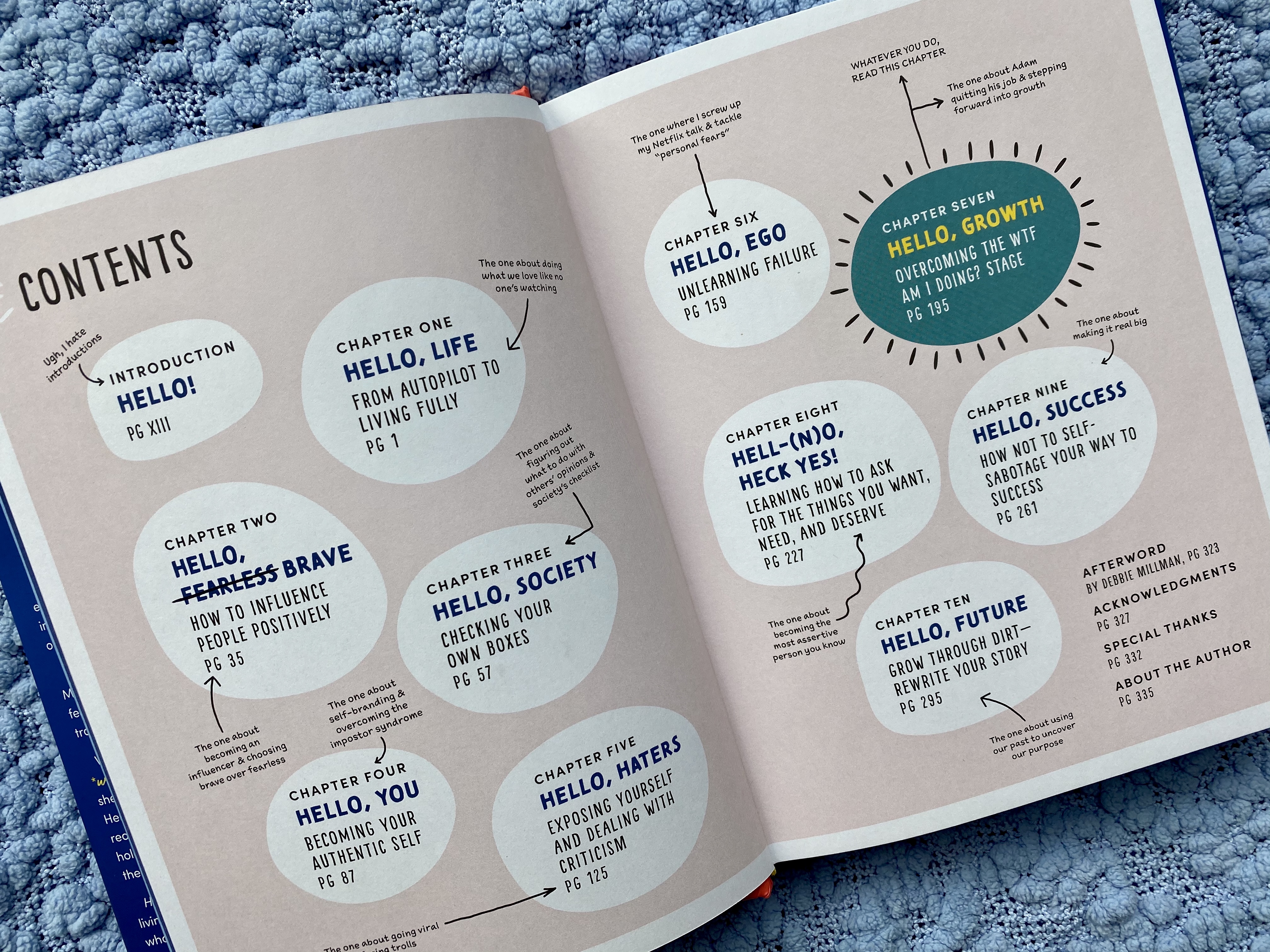 15. Michelle kicks off the book with an introduction that instantly engages readers and allows readers to connect with her.
5 Reasons to Read Chapter One on Living Fully
16. In Chapter One, Michelle describes seven core fears that are often at the root of our biggest hurdles.
17. The correlation between experiences and emotions is described in Chapter One.
18. In Chapter One, Michelle shares her view on types of memories. Her theory emphasizes the value of time.
19. Chapter One encourages readers to consider whether they are living life to the fullest.
20. You only have one life to live, don't you want to make the most of it?
7 Reasons to Read Chapter Two on Bravery
21. In Chapter Two, Michelle teaches readers the difference between fearlessness and bravery.
22. We can all learn how to live more brave and courageous lives.
23. Chapter Two helps readers identify areas in which they're fearful, fearless, and brave.
24. Michelle shares practical advice for having positive influences on others.
25. Nuggets of wisdom on leadership fill the pages throughout Chapter Two.
26. We all can inspire others, and Michelle tells us how to do so through what she refers to as "everyday leadership."
27. Chapter Two goes into detail about the Hello Fears movement and community.
12 Reasons to Read Chapter Three on Society
28. Chapter Three opens readers' eyes to the idea of comfort by society's expectations of us.
29. Chapter Three covers the differences between comfort and happiness. This lesson is important!
30. How to set challenging milestones rather than seeking to fulfill milestones others have set for us is outlined in Chapter Three.
31. Lessons on compromise are sprinkled into Chapter Three.
32. Similar to Maslow's Hierarchy of Needs, Michelle created her Pyramid of Needs, and it rocks! (See pg. 66) I recommend using this visual to create your pyramid of needs.
33. Michelle teaches readers about universal fears and why these show up in our lives.
34. Michelle teaches readers about cultural fears and how those affect and influence our behavior.
35. Chapter Three also covers the differences between fitting in and belonging. Famous author and researcher, Brené Brown, is referred to in this section.
36. Chapter Three includes a critical thinking exercise for readers to consider their own choices.
37. Michelle describes the sacrifices that she made to pursue a more purpose-filled life, and she tells readers exactly how she made it happen.
38. There are emojis in Chapter Three. Who doesn't love emojis?
39. Additional exercises are included in Chapter Three to help readers map out the changes they want to make in their lives too.
7 Reasons to Dive into Chapter Four on Authenticity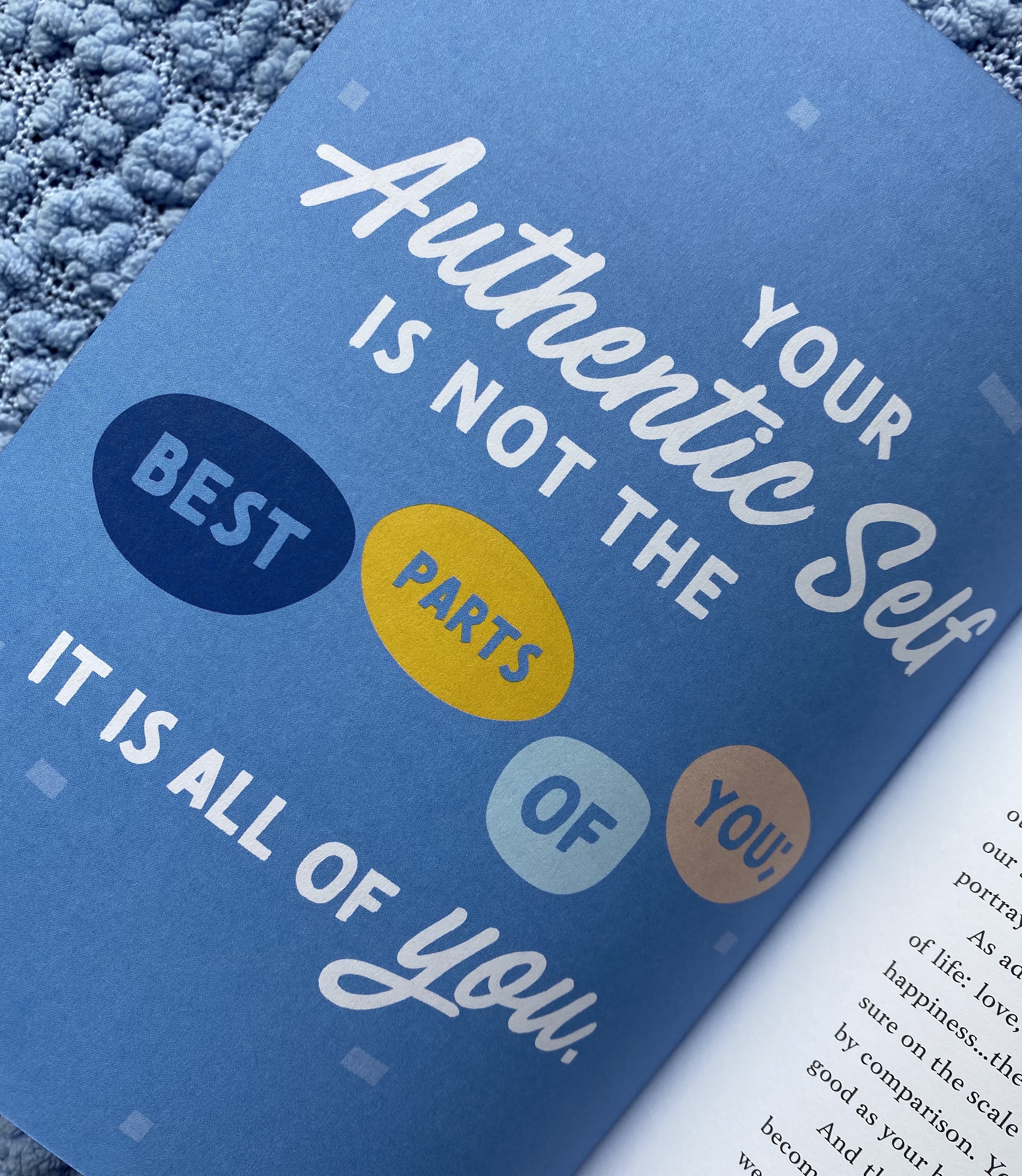 40. Michelle is an authentic person, and she wrote an entire chapter on authenticity because of how important it is to her.
41. There are some adorable pictures of young Michelle in Chapter Four that highlight her message on being our authentic selves. (See pg. 89 & 90)
42. Michelle shares how she lives unapologetically and differentiates herself that we can learn from and apply to our own lives.
43. Chapter Four covers Impostor Syndrome – a syndrome we all suffer from at times.
44. The concept of owning your white space described in Chapter Four is practical and realistic advice.
45. One of the exercises in Chapter Four is a Google initiative that has reached 100+ countries. I did the exercise at an in-person workshop recently, and it's indescribably empowering.
46. Nuggets of wisdom on self-acceptance, self-love, and self-branding fill the pages throughout Chapter Four.
3 Reasons Why You Should Read Chapter Five on Haters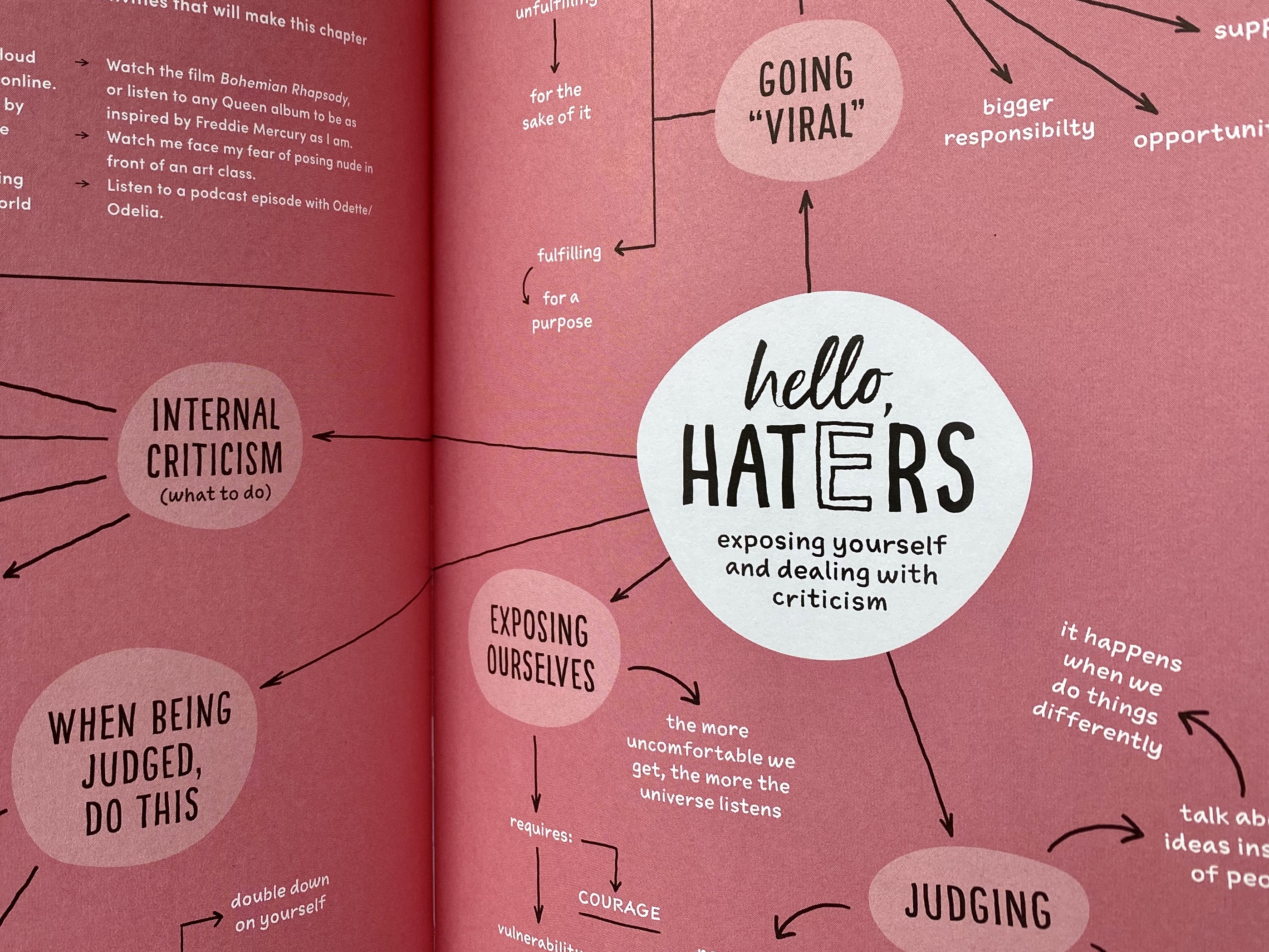 47. Chapter Five highlights a topic we all deal with at times – haters.
48. Dealing with criticism is part of learning how to face fears. Michelle tells us how to handle criticism in a way that's beneficial.
49. We judge ourselves. More on internal criticism and its impacts is in Chapter Five.
4 Reasons to Read About Failure in Chapter Six
50. You can create a vision board in Chapter Six. Right inside the book! (See pg. 162)
51. Failure sucks, but not trying at all and wishing you had sucks even more. Learn more about failure and comfort in Chapter Six.
52. Michelle recaps Sigmund Freud's model of the psyche in a digestible way. (See pg. 169)
53. Failure is part of getting outside of our comfort zones, and Michelle teaches readers the importance of failing.
6 Reasons To Read Chapter Seven on Growth
54. Chapter Seven is considered the most crucial chapter of the book. You'll have to read the book to understand why.
55. Sometimes we have to choose the decision that scares us the most to grow the most.
56. Michelle outlines the six-stage process of facing any fear in Chapter Seven. Write this process down and save it for later!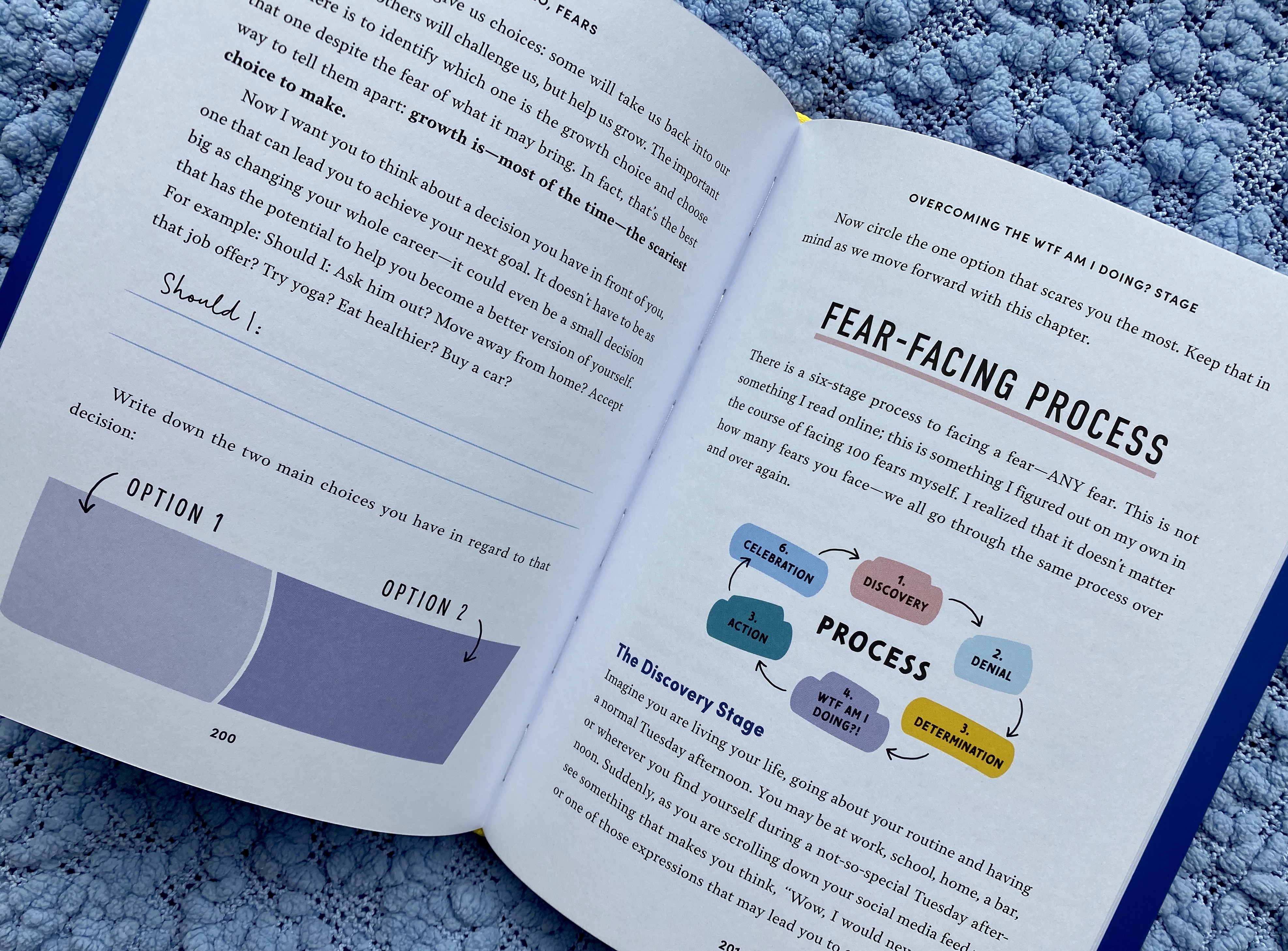 57. Chapter Seven highlights our nervous systems and the Behavioral Inhibition System compared to the Behavioral Activation System. Understanding these systems and their effect on our behavior will help you understand your motivations for decision-making.
58. Chapter Seven emphasizes growth and includes seven stories of growth that are worth reading.
59. Understanding how others have approached growth in their lives can help you take steps towards growing too.
7 Reasons to Read Chapter Eight on Asking for What You Want & Deserve
60. In Chapter Eight Michelle shares how she fearlessly pursued getting accepted to present on stage at a TEDx event.
61. Chapter Eight is all about believing in oneself – a small reminder we could all use.
62. Rejection is tough for everybody, but Michelle puts a positive lens on rejection and how to handle it.
63. One of my favorite sections of this book lies within Chapter Eight and highlights the fact that time is the only asset we can never get back. (See pg. 233)
64. Michelle teaches readers how to politely say no to requests and obligations that do not serve them.
65. Assertiveness is a great skill to have that doesn't get talked about enough. Chapter Eight explains why it's okay to be assertive.
66. There's a conversation about assertiveness at the end of Chapter Eight beautifully displayed in colorful text bubble graphics.
9 Reasons to Dive into Chapter Nine on Success
67. Michelle shares a secret related to reading books in Chapter Nine. Check it out for yourself. (See pg. 262)
68. Definitions of success worth pondering, as well as space to write your definition of success, are in Chapter Nine.
69. Nuggets of wisdom on success fill the pages throughout Chapter Nine.
70. Michelle breaks down the differences between skills and passions in Chapter Nine. Understanding these differences will help readers get to know themselves better.
71. There's a life goal exercise in Chapter Nine that everyone should fill out at some point in their lifetime.
72. Understanding feelings of guilt that surface with success will help readers know how to handle guilt they experience as they start to face their fears.
73. Practical tips for overcoming feelings of guilt related to success are in Chapter Nine.
74. Facing our fears will inevitably come with a certain amount of self-sabotage. Michelle helps readers overcome these limiting beliefs in Chapter Nine.
75. The beautiful relationship between success and courage wraps up Chapter Nine.
7 Reasons to Read Chapter Ten & Plan Your Future
76. Chapter Ten highlights Michelle's past and family history. Understanding Michelle's history helps readers understand why they are the way that they are.
77. The level of transparency in Chapter Ten speaks wonders about Michelle as a person.
78. Chapter Ten is brutally honest.
79. In Chapter Ten, Michelle shares the eight steps that helped her bloom.
80. The eight steps that helped Michelle bloom will help anyone rewrite their story.
81. Chapter Ten is where readers can begin to apply everything they've learned so far.
82. The final exercise in the book is challenging, and some may even consider the final exercise to be one of their fears. Do the exercise!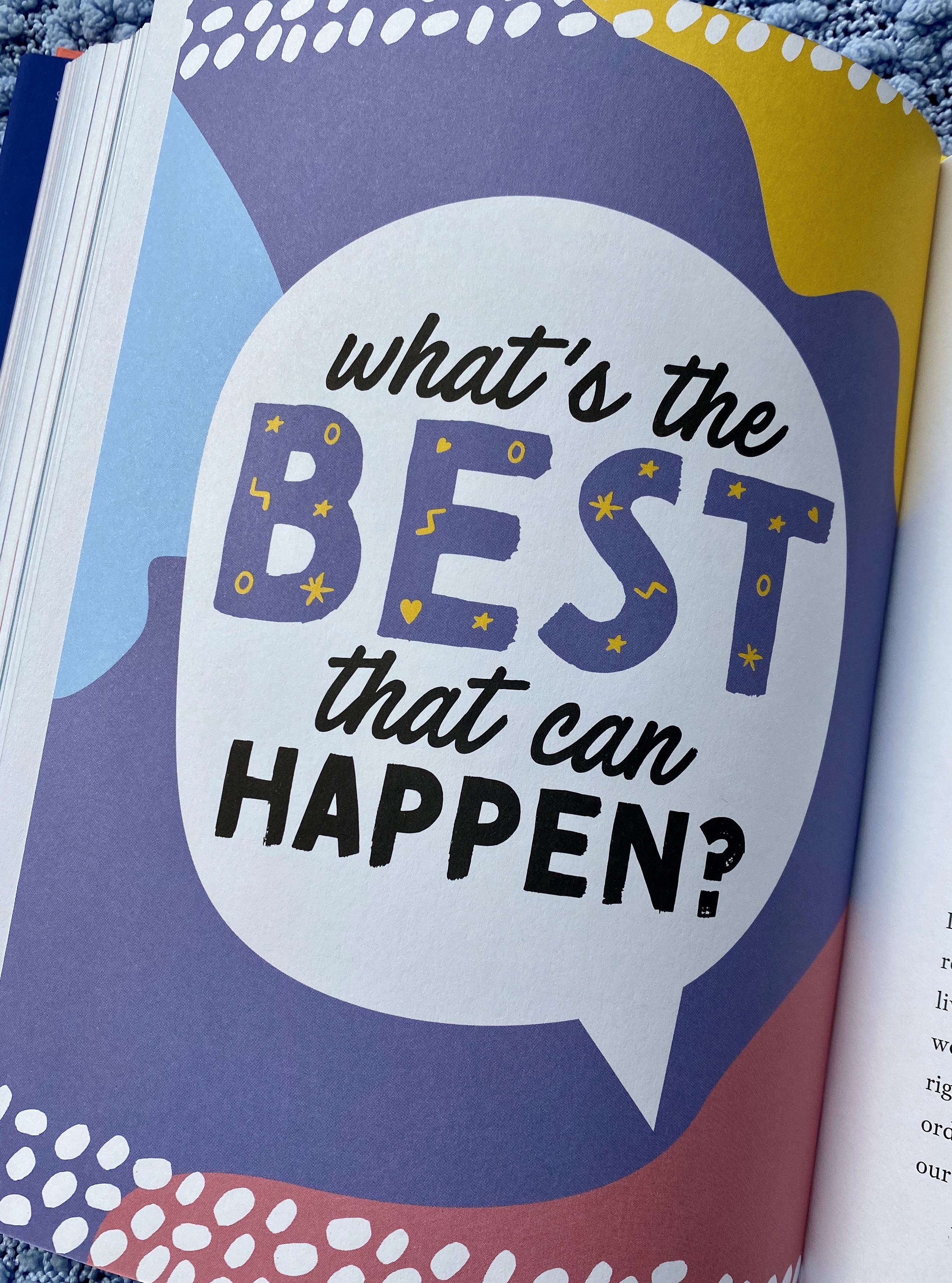 3 Reasons to Not Skip Out on the Last Few Pages of the Book
83. The Afterword highlights how special of a changemaker Michelle is. It will make you love her even more!
84. The Acknowledgments is a bonus from a past version of Michelle.
85. There's an adorable About the Author section included with a stylish picture of Michelle that showcases her bright personality.
In Case You're Not Convinced Yet - 15 More Reasons to Read Hello, Fears
86. This book will make you laugh – Michelle is hilarious!
87. Every chapter includes key takeaways and additional activities on the hellofearsbook.com website.
88. The additional activities can be easily accessed through QR codes. So tech-savvy!
89. Every chapter includes colorful graphics and visual elements to bring Michelle's advice to life.
90. The colorful graphics and visual elements are perfect for sharing on social media.
91. The book contains multiple maps that are easy to follow and highlight key themes presented throughout the chapters.
92. The color palette of Hello, Fears, is pleasing to the eye.
93. Michelle's husband, Adam, worked with some unbelievably talented individuals to put together this video for Michelle's book launch.
94. This is not another boring self-help book. This is the book that's going to help you change your life.
95. Michelle radiates positive energy and is such a bright light we should all aspire to be more like.
96. There is an amazing community tied to Hello, Fears, and we can encourage and empower one another to live our best lives.
97. You'll be able to carry this book with you and refer to it for inspiration as you navigate your courageous journey.
98. Hello, Fears will look great on your bookshelf once you've finished reading it.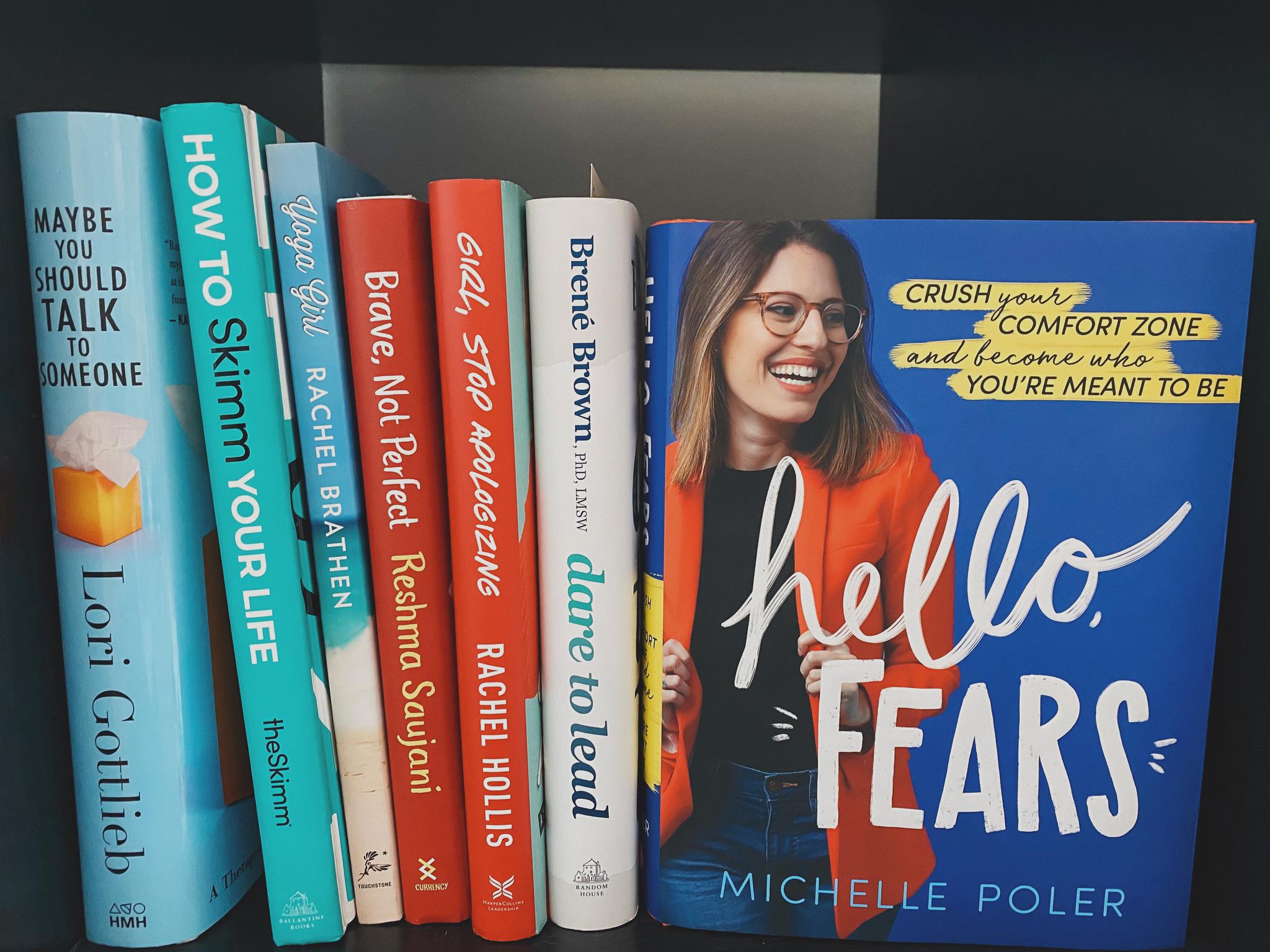 99. Once you finish reading Hello, Fears, and start to apply what you've learned to your life, you'll want to give this book to everyone you know.
100. You deserve to live your best life. Buy the book.