The Benefits of Practicing Gratitude and a FREE App to Help You Get Started
Spring has sprung here in Denver, and I love the change and sense of renewed routines and mindsets that come with the season. Each year around this time, I feel more inspired, motivated, and ready to run full steam ahead into the spring and summer months. The winter felt extremely tough this year, and like you, my stress levels have been off the charts due to the circumstances around the last year.
The last few months reminded me of a time in my life when everything around me was beyond my control, and I had to learn how to employ practices to recover my mental health. The year was 2015. My grandmother passed away in April, just shy of 63 years old, and my grandfather followed closely behind her at the age of 65. Their passings were sudden and unexpected, and I hadn't experienced a loss on that scale, let alone two back to back. My grandparents meant the world to me, but grief picked me up and knocked me down repeatedly that year. At the time, it was a season I wasn't sure I could ever come out of, and it took a lot of work to get to the other side.
One of the practices that helped me get to the other side, though, was a gratitude practice. Over the years, I've leaned on gratitude practices failing to maintain consistency, but always glad when I am consistent with it for waves at a time. I've used pen and paper to write down a moment of gratitude at the end of the day, fancy journals with structured gratitude prompts that I've scoured from the internet, and even my Notes app on my iPhone. The medium and method have never really mattered to me because the benefits of gratitude manage to shine through no matter how messy my practice is.
The benefits of practicing gratitude are far-reaching and, in some ways, immeasurable due to the magnitude of their impact. Here are just a few of the benefits of practicing gratitude:
Fast forward to early 2021. We were approaching the one-year mark of the pandemic, we were knee-deep in the middle of a Colorado winter, and the sudden build-up of how much life has changed started to settle in. I was in a major funk (weren't we all?) There are so many circumstances beyond our control in life, but after contemplating how I was feeling, I remembered that I do have control over the habits and rituals that help me stay resilient. So, I decided that I wanted to commit to practicing gratitude again.
This time around, I started using the free Gratitude Plus app. And similar to six years ago, I immediately started feeling more positive mentally and physically. The best part is that I never have an excuse not to think about what I'm grateful for and jot a few quick notes down about it because I almost always have my phone on me.
I love practicing gratitude and using the Gratitude Plus app, and I thought, wouldn't it be fun to share this practice with those in my circle? How can we practice gratitude together? How can we all learn to not only practice gratitude but be willing to share the practice and create a gratitude chain? How can we cultivate new habits and enter this season feeling refreshed and renewed for the seasons ahead?
Over the last year, I've also ramped up my freelance writing side hustle and saw an immense value in identifying moments of gratitude, mainly because being a freelancer (even just a part-time one) is dang tough! There's a lot to be said about celebrating your wins, no matter how large or small, in the freelancing world.
I had the utmost privilege and pleasure to work with the founder of the Gratitude Plus app, Daniel Shaffer, to bring my shared gratitude practice to life. I've created two gratitude circles on the Gratitude Plus app:
Alyssa's Gratitude Gang (for friends, family members, acquaintances, and strangers alike)
Alyssa's Gratitude Circle for Freelancers (for any freelancer who needs a space for moments of gratitude!)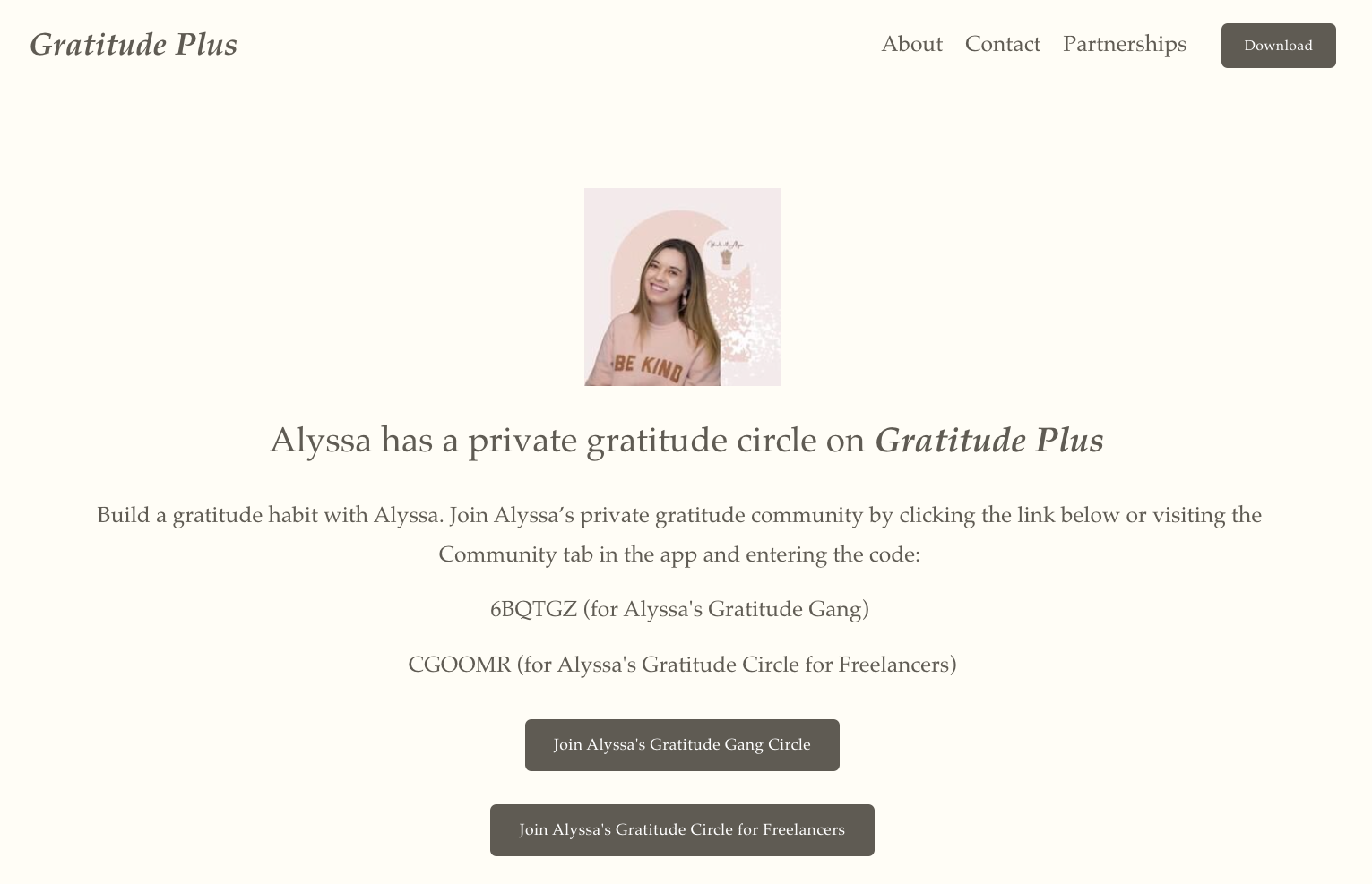 You can download the FREE Gratitude Plus app on the App Store or Google Play and join one of my gratitude circles today! Let's celebrate our wins, relish in the small moments that make our lives a whole lot brighter, and encourage one another along the way.
I hope you'll join me in building a gratitude habit and take steps on the path towards a happier lifestyle as we move into new seasons.